Editor
Brandi N. Frisby, School of Information Science, University of Kentucky
The Basic Communication Course Annual (BCCA) was first published in 1988 after the Midwest Basic Course Directors Conference. The Annual publishes the best scholarship available on topics related to the basic communication course and is distributed nationally to scholars and educators interested in the basic communication course.
Manuscripts published in the Annual are not restricted to any particular methodology or approach. They must, however, address issues significant to the basic course (defined broadly). In 2013, the Annual began including a Basic Course Forum section for shorter essays responding to a specific question. In 2016, the University of Dayton Department of Communication acquired the journal and its archives from the initial publisher and began publishing it as an open-access journal.
The submission process for Volume 35 (2023) is now open. The deadline for submissions is Oct. 1, 2022.
Current Volume: Volume 34 (2022)
Research articles in this volume address technology; modern adjustments to the teaching of public speaking; value messaging at universities; motivation; and administration of the basic course. The Basic Course Forum addresses the long-term impacts of educational shifts brought about by the COVID-19 pandemic.
Print version now available
The print version of Volume 34 is available for $15. Order here.
Front Matter
Articles
Essays
Back Matter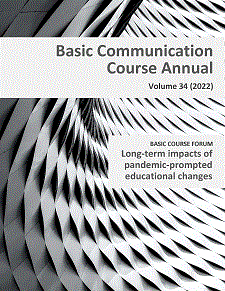 Editors
Editor

Brandi N. Frisby

Editorial assistant

Hayley C. Hoffman

Review Board

Lindsey B. Anderson

LeAnn M. Brazeal

Melissa A. Broeckelman-Post

Nate S. Brophy

Daniel Chick

Troy Cooper

Katherine J. Denker

Jayson Dibble

John F. Hooker

Angela M. Hosek

Marian L. Houser

Stephen Hunt

Adam C. Jones

Renee Kaufmann

Stephanie Kelly

Jeffrey H. Kuznekoff

Joe C. Martin

David T. McMahan

Stevie M. Munz

Scott A. Myers

Suzy Prentiss

Narissra M. Punyanunt-Carter

Rasha Ramzy

Kristina Ruiz-Mesa

Cheri J. Simonds

Nicholas T. Tatum

Jill C. Underhill

Joseph M. Valenzano III

Jessalyn I. Vallade

Tiffany R. Wang

Joshua N. Westwick

Andrew D. Wolvin

Anna Wright
Call for Editors, Volumes 36-38
The Basic Communication Course Annual is seeking an editor to begin work in January 2023 for a three-year term to run Volumes 36-38. Download the call for editors for more information.