Editor
Brandi N. Frisby, School of Information Science, University of Kentucky
The Basic Communication Course Annual (BCCA) was first published in 1988 after the Midwest Basic Course Directors Conference. The Annual publishes the best scholarship available on topics related to the basic communication course and is distributed nationally to scholars and educators interested in the basic communication course.
Manuscripts published in the Annual are not restricted to any particular methodology or approach. They must, however, address issues significant to the basic course (defined broadly). In 2013, the Annual began including a Basic Course Forum section for shorter essays responding to a specific question. In 2016, the University of Dayton Department of Communication acquired the journal and its archives from the initial publisher and began publishing it as an open-access journal.
The submission process for Volume 34 (2022) is now open. The deadline for submissions is Oct. 1, 2021.
Current Volume: Volume 33 (2021)
Editor's Summary
The articles presented in Volume 33 encompass a wide range of topics that advance our understanding of basic course pedagogy, practice, and administration.
The Basic Course Forum highlights best practices for matching communication skills with employer desires. Writers were asked to address but were not limited to employer desires for communication skills; curriculum and assignment design ideas to instill these skills in basic course students; best practices for providing practical experience in refining and assessing these desired skills; building collaborations between employers and students; and understanding alumni perspectives on the match (or mismatch) between basic course skills and those skills alumni utilize once employed.
Front Matter
Articles
Essays
Back Matter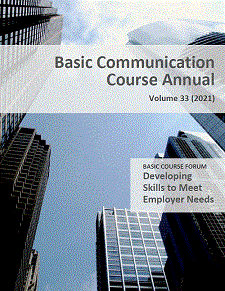 Editors
Editor

Brandi N. Frisby

Editorial assistant

Hayley C. Hoffman

Review Board

Lindsey B. Anderson

LeAnn M. Brazeal

Melissa A. Broeckelman-Post

Katherine J. Denker

Karen Kangas Dwyer

Adam C. Earnheardt

Deanna L. Fassett

T. Kody Frey

Amy L. Housley Gaffney

Elizabeth Graham

Jon A. Hess

Stephen K. Hunt

John F. Hooker

Angela M. Hosek

Marian L. Houser

Adam C. Jones

Jeffrey H. Kuznekoff

Luke LeFebvre

Joseph Mazer

David T. McMahan

W. Bradford Mello

Kevin R. Meyer

Scott A. Myers

C. Kyle Rudick

Kristina Ruiz-Mesa

William J. Seiler

Cheri J. Simonds

Blair Thompson

Scott Titsworth

Joseph M. Valenzano III

Beth M. Waggenspack

Samuel P. Wallace

Tiffany R. Wang

Joshua N. Westwick

Andrew D. Wolvin