Featured Publications
ISSN 2473-4004 (online); 1546-2331 (print)
Editor
Brandi N. Frisby, School of Information Science, University of Kentucky
The Basic Communication Course Annual (BCCA) was first published in 1988 after the Midwest Basic Course Directors Conference. The Annual publishes the best scholarship available on topics related to the basic communication course and is distributed nationally to scholars and educators interested in the basic communication course.
Manuscripts published in the Annual are not restricted to any particular methodology or approach. They must, however, address issues significant to the basic course (defined broadly). In 2013, the Annual began including a Basic Course Forum section for shorter essays responding to a specific question. In 2016, the University of Dayton Department of Communication acquired the journal and its archives from the initial publisher and began publishing it as an open-access journal.
The submission process for Volume 34 (2022) is now open. The deadline for submissions is Oct. 1, 2021.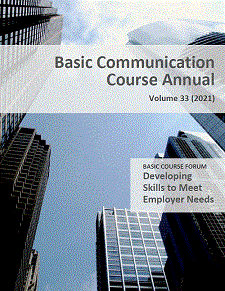 ISSN 2470-9549
This journal, published by the Ohio College Personnel Association, launched in 2016 with the publication of the proceedings of its 2016 conference. Submissions are invited for the upcoming issue; see "About This Journal" for a description of the types of scholarly and professional work the journal will include. To submit an article for review, use the "Submit Article" button.
The vision of the Journal of Research, Assessment, and Practice in Higher Education is to publish original, rigorous, and well-respected research manuscripts, evaluations of promising best practices endeavors, and theory-grounded assessment reports of innovative initiatives. The ultimate goal is disseminating knowledge about programs and research studies that are making a difference in student affairs practice.
The journal especially encourages manuscripts that are unconventional in nature, engaging the readers in practical and methodological extensions that would transform institutions, inspire colleagues, and engage campus beyond the traditional boundaries of the student affairs profession.