This journal, published by the Ohio College Personnel Association, launched in 2016 with the publication of the proceedings of its 2016 conference. Submissions are invited for the upcoming issue; see "About This Journal" for a description of the types of scholarly and professional work the journal will include. To submit an article for review, use the "Submit Article" button.
The vision of the Journal of Research, Assessment, and Practice in Higher Education is to publish original, rigorous, and well-respected research manuscripts, evaluations of promising best practices endeavors, and theory-grounded assessment reports of innovative initiatives. The ultimate goal is disseminating knowledge about programs and research studies that are making a difference in student affairs practice.
The journal especially encourages manuscripts that are unconventional in nature, engaging the readers in practical and methodological extensions that would transform institutions, inspire colleagues, and engage campus beyond the traditional boundaries of the student affairs profession.
Current Issue: Volume 3, Issue 1 (2018)
Front matter
Articles
Conference papers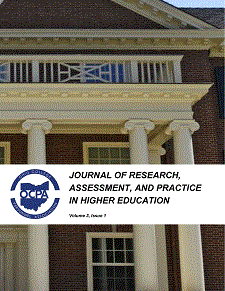 Editors
Editor

Nasser A. Razek, Ed.D., The University of Akron

Managing Editor

Alan Demmitt, Ph.D., University of Dayton

Board members

Kenneth W. Borland Jr., Ed.D., Bowling Green State University
Henrique Alvim, Ph.D., Walsh University