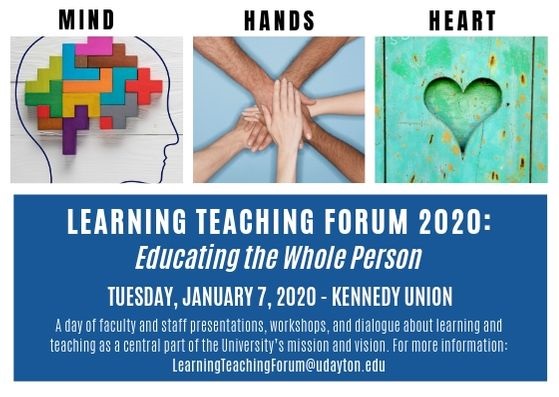 The 2020 University of Dayton Learning and Teaching Forum will explore "educating the whole person" from various perspectives, including academic affairs, student affairs, and co-curricular/experiential dimensions of the UD education.
Call for Proposals
As a Catholic, Marianist institution dedicated to the development of the whole person — mind, hands, and heart — the 2020 Forum will look at how different parts of the University collaborate, cross boundaries, and contribute to students' holistic success and development.
The Forum will be an opportunity for faculty and staff to investigate and dialogue about what it really means to educate the whole person, both inside and beyond the classroom. We invite faculty and staff to submit proposals for active sessions to engage participants on scholarship and/or research on learning and teaching, as well as more informal presentations and demonstrations that help us explore what it truly means to educate the whole person.
Faculty and staff can submit a proposal online submit a proposal online. Note: If you do not have an account in eCommons, you will need to create one. Follow the instructions provided on the "Submit event" link.
The deadline to submit a proposal is October 14, 2019.
We hope you will join us for this exciting day of workshops, presentations, and conversations about learning and teaching at UD. If you have any questions about your proposal submission, or for more information about the forum, please email or visit the forum website.
Browse the contents of 2020: Educating the Whole Person: