Volume 35 (2023)
Research articles in this volume address the future of research on the basic course; communication apprehension; public speaking self-efficacy, and well-being, among other topics. The Basic Course Forum addresses diversity, equity, and inclusion in the basic course.
Print version now available
The print version of Volume 35 is available for $15. Order here.
Front Matter
Articles
Essays
Back Matter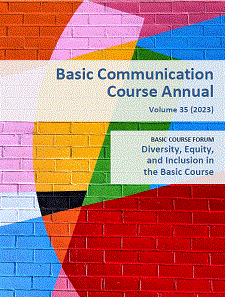 Editors
Editor

Brandi N. Frisby

Editorial assistant

Hayley C. Hoffman

Review Board

Drew Ashby-King

LeAnn Brazeal

Melissa A. Broeckelman-Post

Kathy Denker

Kristin Farris

Michelle Garland

Mimi Hodis

Stephen K. Hunt

Adam Jones

Renee Kaufmann

Stephanie Kelly

Joe C. Martin

Tim McKenna-Buchanan

Kevin R. Meyer

Sherwyn Morreale

Kristina Ruiz-Mesa

Cheri J. Simonds

Jill Underhill

Jessalyn Vallade

Tiffany R. Wang

Joshua Westwick