Volume 1, Issue 2 (2023)
In this issue, two articles explore graduate student involvement in research, which is an important topic as the profession begins to move to graduate-prepared entry practice. Competence in research is a critical skill to continue to build evidence-based practice and demonstrate the impact of didactic and experiential learning.
This issue also explores student perceptions of flipped classroom learning, changes in attitudes after online interprofessional education (IPE), and the effectiveness of simulation on clinical competence, all of which begin to build a body of evidence around effective teaching practices that lead to competence in practice and as an interprofessional team member.
Front Matter
Original Research
Research Briefs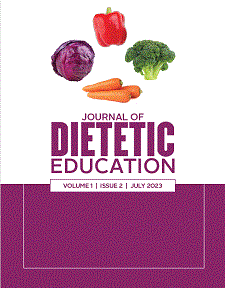 Editors
Diana Cuy Castellanos, University of Dayton

Beth Miller, Miami University
Editorial Board
Gina Bayless, University Hospitals Cleveland Medical Center/Sodexo Healthcare

Melissa Bernstein, Rosalind Franklin University

Jessica Bodzio, Marywood University

Kay Bruening, Syracuse University

Casey Colin, University of North Florida

Jennifer Dalton, University of Dayton

Anne Davis, Hood University

Michele "Shelly" DeBiasse, Boston University

Katie Eliot, University of Oklahoma

Kevin Haubrick, University of Houston

Amy Kweller, University of Texas at Austin

Christine Meissner, St. Elizabeth University

Lauren Roberson, Murray State University

Leann Schaeffer, University of Akron

Dana Scheunemann, Mount Mary University

Joanne Sullivan, West Chester University

Sara Tamsukhin, University of Cincinnati

Meredith Wagner, Concordia College

Allisha Weeden, Idaho State University

Sunitha Zechariah, Morrison Healthcare